What is Cellulite Reduction?
No matter if you are thin or overweight, young or old, cellulite can happen to you. We understand that you want to look your best, and cellulite can keep you from having a positive body image. Don't give up when you have cellulite – fight back with cellulite reduction. Dr. Kristen Ann Aliano Messina and board-certified facial plastic surgeon Dr. Vu Ho use various forms of this treatment, including QWO®, VelaShape®, ZWave, and BellaPlasma lifts, to target the structural causes of cellulite and body fat, which reside beneath the skin. These procedures do what diet and exercise can't by reducing unattractive lumpiness under the skin of your buttocks, arms, abdomen, flanks, and/or upper thighs. Schedule your consultation at Beyond Beautiful Texas in Plano, TX today.
Cellulite Reduction Reviews
"Sarah made me very comfortable with the ZWave explaining exactly how it would work and what the treatment was doing. It is great to have such a knowledgeable person answering questions and administering the procedure."
- K.C. /
Healthgrades /
Aug 18, 2019
"Sarah was as great as the first time I saw her. I have seen progress with the zwave treatments. It helps smooth and give your skin a satiny feel. I can't say enough about Dr Ho and his whole staff. They as so friendly and make you feel like you belong to the Beyond Beautiful family."
- S.S. /
Healthgrades /
Sep 13, 2019
"My underarms would be soaked in sweat just from sitting - Dr. Vu Ho has been a Godsend! It's been a week since I have gotten the Morpheus for underarm sweating and let me tell you it has changed my life. After years, and when I say years, I mean since my teenage years, I've had an underarm sweating problem. My underarms would be soaked in sweat just from sitting still, which I couldn't understand. I've used underarm pads, prescription creams, botox, and oral drugs, but nothing worked. If you are looking for someone to help you with embarrassing underarm sweating, Dr. Ho is the best with Morpheus8. This has been the best decision I've made and I thank Dr. Ho for that!"
- H. /
RealSelf /
Jan 31, 2021
Previous
Next
Is Cellulite Reduction Right for Me?
During your consultation, a member of our team will help determine if cellulite reduction with QWO, ZWave, VelaShape, or a BellaPlasma lift will help you achieve your aesthetic goals. It is important to keep in mind throughout this process, however, that cellulite is not a weight loss treatment and should not be treated as such. The ideal candidates for all forms of cellulite reduction are patients of all genders who:
Have unwanted cellulite or body fat on their abdomen, upper arms, legs, and/or buttocks
Have dieted and exercised without attaining the results they desire
Want long-lasting results
Are healthy
Are at or near their goal weight
How is Cellulite Reduction Performed?
Depending on your unique needs, goals, and body type, our team will recommend which of our cellulite reduction techniques will best help you achieve the body of your dreams. We're always willing to answer any questions or concerns you may have with the various methods, as well as explain the differences between them. Below, you'll find a quick breakdown of the procedures we can perform to reduce the appearance of cellulite in the bodies of our patients.
QWO: Beyond Beautiful Texas is one of the few medical spas in North Texas now offering the revolutionary, new QWO treatment, a nonsurgical procedure clinically proven to reduce moderate to severe cellulite. Eliminating cellulite is difficult and may even seem impossible regardless of your diet or exercise regimen. With QWO, we can treat cellulite in the thighs and buttocks with little downtime using injections that can take as little as ten minutes. QWO is the first injectable on the market that effectively treats cellulite. It is currently FDA approved for use in the buttocks of women. It contains collagen-degrading enzymes that dissolve the fibrous band connecting skin to muscle. These bands are seen as the root cause of cellulite as they pull the skin down, creating an uneven surface. Patients will typically require up to three treatments at 21-day intervals for optimal results.
BellaPlasma Lift: Beyond Beautiful Texas is the only medical spa in the country offering the innovative, state-of-the-art BellaPlasma Booty procedure. Our exclusive, trademarked combination therapy called BellaPlasma is used to reduce cellulite and reshape and contour the hips and buttocks. By using a unique blend of safe and effective treatment modalities, including QWO, the first and only FDA-approved injectable for cellulite, we are able to diminish cellulite dimpling and enhance the shape of the buttocks. This is a minimally invasive procedure performed in the office and results are long-lasting.
ZWave: ZWave is a noninvasive treatment that is pain-free and does not require anesthesia. The simple process involves patients lying down comfortably in our procedure room while a member of our team uses the ZWave handpiece over each targeted area. The technology can be used alone to improve the structure of the skin and connective tissues, or combined with other minimally invasive procedures, such as scar reduction, skin tightening, and laser treatment. The high-energy, radial shockwaves emitted by ZWave work twofold by squeezing the tissue, breaking up the structure of the molecules, and collapsing the gas bubbles in the fat structures beneath the skin. Most patients comment that the treatment feels like a relaxing massage.
VelaShape: Much like ZWave, we will ask patients undergoing VelaShape treatment to lie in the prone position while an aesthetic technician passes the handheld VelaShape device over the treatment area. Most of our cellulite reduction patients say this feels like a relaxing massage and has a warm sensation but is not painful. While the device uses vacuum suction to bring the cellulite closer to the surface, it also targets the area with heat guided by bipolar radiofrequency energy. The length of time your appointment takes will be dependent on the amount of area(s) treated.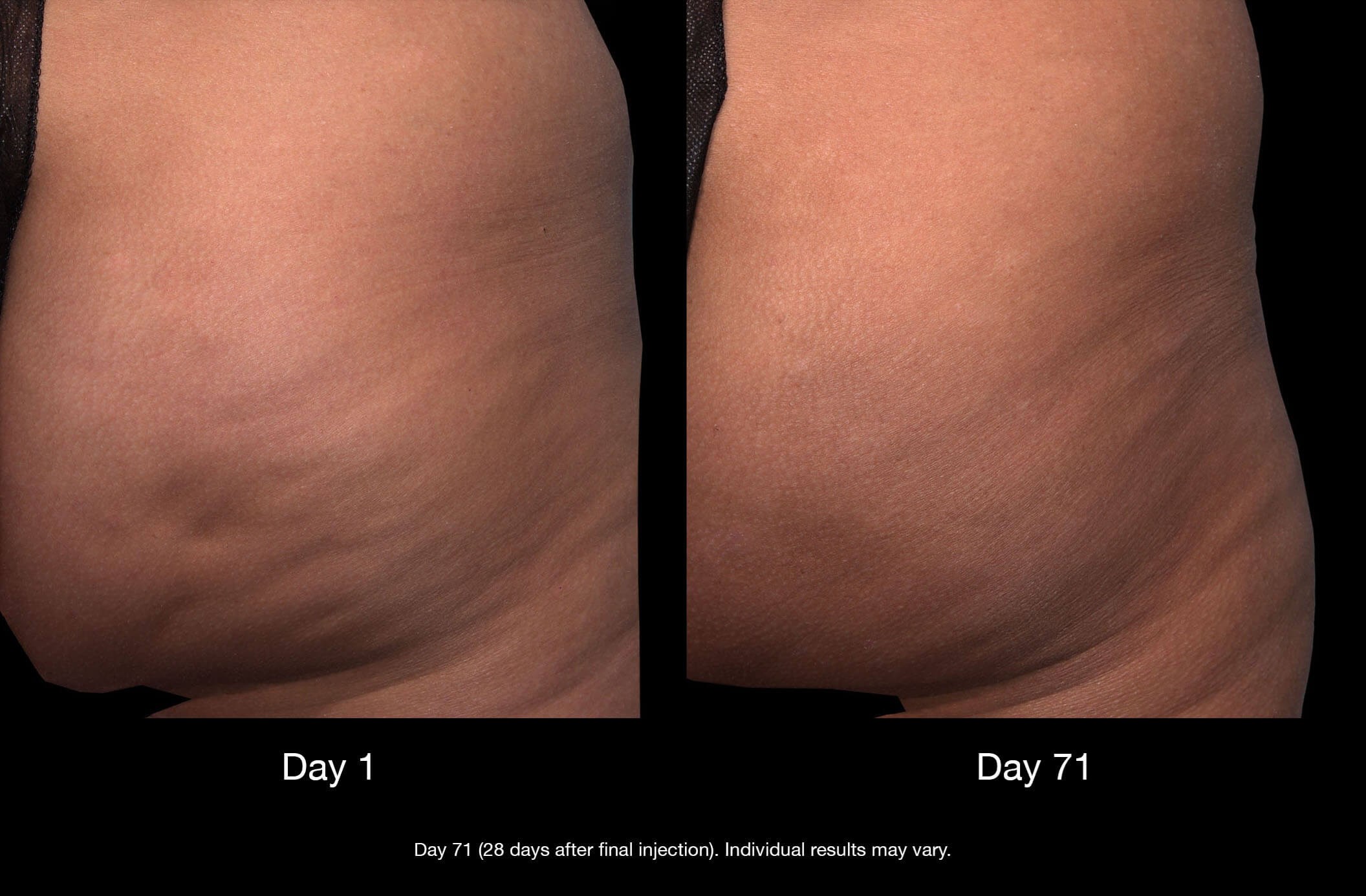 What Results Can I Expect from Cellulite Reduction?
Following your cellulite reduction session, patients are free to return to their daily activities without any concern for the treatment area. Their skin may be slightly red and warm to the touch immediately following their treatment, but they should not experience any pain. During the consultation, a member of our team will recommend the number of treatments we believe will help attain the patient's aesthetic goals. After the optimal appearance has been attained, we usually recommend receiving occasional touch-up sessions to maintain the results.
Do you feel like trying to get rid of your cellulite is a never-ending battle? Have you tried everything imaginable? If so, cellulite reduction might be the solution for you. While cellulite is not a serious medical condition, it is unattractive and may affect your self-esteem. Cellulite reduction is safe and effective and has been proven to work for countless patients. Get rid of that cellulite and sculpt your body once and for all with cellulite reduction. To find out more, call Beyond Beautiful Texas in Plano, TX to schedule a consultation with Dr. Vu Ho or Dr. Kristen Ann Aliano Messina.