Can MyEllevate™ Tighten The Skin Around My Neck?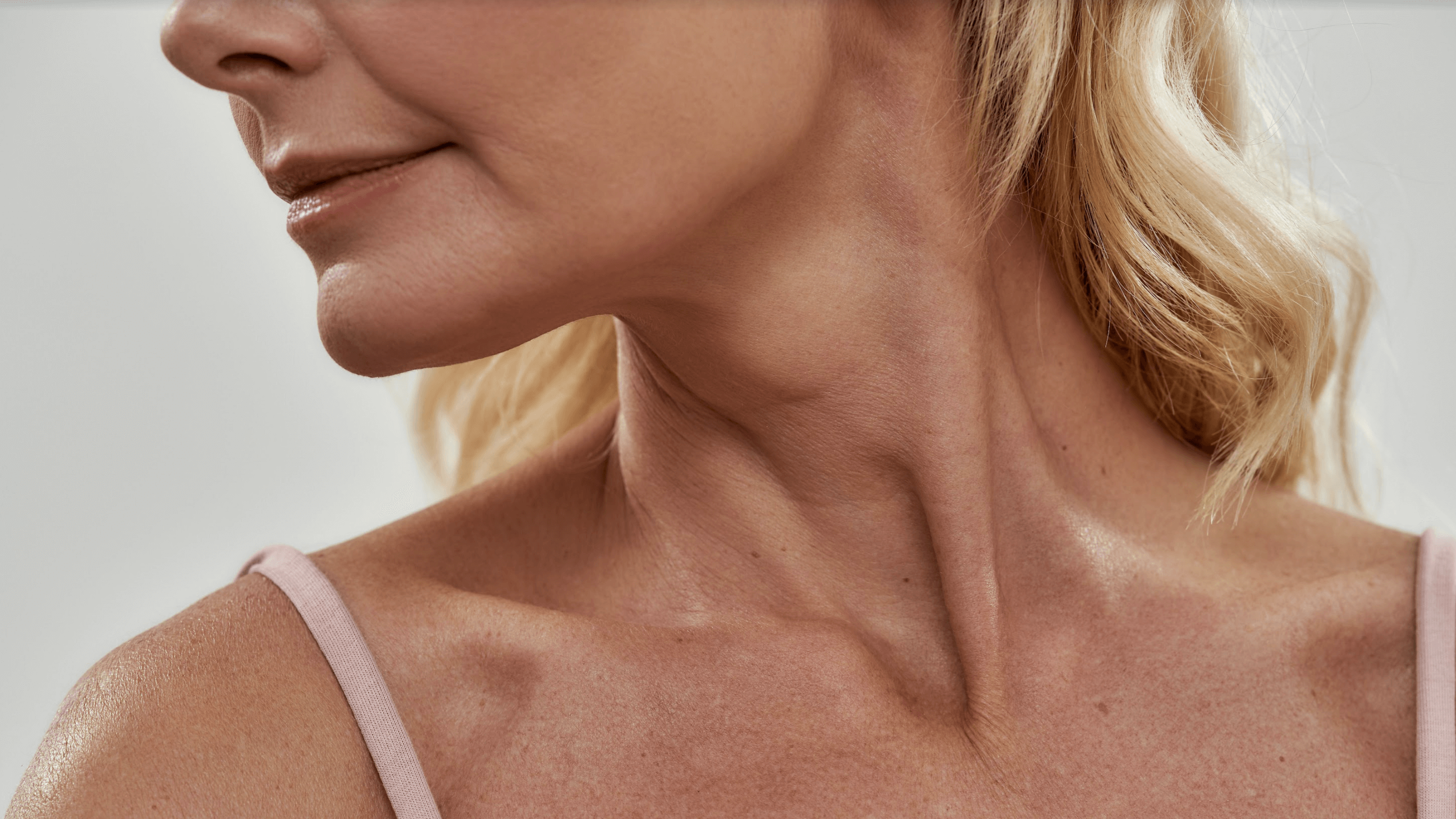 If you have begun to notice loose neck skin, neck banding, or a generally aged-looking neck, you may be starting to consider your options for neck rejuvenation. For patients who prefer a less invasive and more convenient alternative to traditional cosmetic surgery, board-certified facial plastic surgeon Dr. Vu Ho and cosmetic surgeon Dr. Jeffrey Caruth are proud to offer the groundbreaking MyEllevate procedure at Beyond Beautiful. With MyEllevate, men and women in Plano, McKinney, Frisco, North Dallas, and the surrounding areas can reverse the unwanted signs of neck aging and achieve a slimmer, firmer, and sexier neck shape more easily than ever. Keep reading to learn more about minimally invasive neck contouring with MyEllevate, and find out if you may qualify for treatment.
Why is my neck starting to sag?
Most of us expect – and even prepare for – the development of lines and wrinkles around our eyes and other facial features, but many people are surprised by sagging skin and visible lines on the neck. These common signs of facial aging are most often related to the natural aging process but can also be exacerbated by sun exposure, genetics, lifestyle, and other factors.
How can I tighten my neck without surgery?
There's no denying the dramatic improvements that can be made with a surgical neck lift, but many patients are unable or unwilling to undergo extensive cosmetic surgery. For these patients, minimally invasive neck tightening with MyEllevate can be a fantastic option.
What is MyEllevate?
MyEllevate is a revolutionary minimally invasive procedure designed to lift and tighten the neck through an advanced combination of techniques, including the reapproximation of neck muscles, the placement of delicate sutures to hold tissues in place, and more.
How does MyEllevate work?
Because MyEllevate is a minimally invasive procedure, no general anesthesia is required. Instead, Dr. Ho or Dr. Caruth will administer local anesthesia to keep the patient comfortable throughout the procedure, which typically takes about one hour to complete. Tiny incisions are made in the neck, through which we are able to reposition and tighten the muscles and other tissues of the neck. Specialized sutures are then placed to hold the tissues and muscles in place. After the procedure, patients should expect some amount of swelling and tenderness, but these side effects typically resolve quickly. Most patients are able to resume the majority of their daily routines within just a few hours after MyEllevate, with strenuous physical activity being off-limits for about 1 – 2 weeks.
Can I combine MyEllevate with other treatments?
Absolutely. Based on your additional concerns – such as stubborn neck fat or loose neck wrinkles – Dr. Ho or Dr. Caruth may recommend combining MyEllevate with one or more of the following treatments:
With a customized neck contouring treatment plan, patients can turn back the clock on aging and restore a more youthful neckline that lasts for years to come.
Looking for a more convenient alternative to neck contouring surgery? Consider MyEllevate in Plano, TX
We all want to look good from the neck up and from the neck down, but let's not forget about the neck itself! If you have a drooping, sagging, or banded neck and are looking for a minimally invasive treatment option, MyEllevate may be right for you. For more information about MyEllevate, FaceTite, and our other facial and neck rejuvenation solutions, call Beyond Beautiful to schedule your private consultation in Plano with Dr. Vu Ho or Dr. Jeffrey Caruth today.